BNI (Business Network International) NW Florida's purpose is to help businesses, large and small, grow their business and make more money!
BNI is the world's largest business networking and referral organization and its culture, which is built upon the philosophy of Givers Gain®, is unique. This is a culture of caring about giving business, professional development and building consistent, proactive and reciprocal business relationships. BNI helps members develop a structured, positive, and professional referral marketing program which provides them opportunities to:
Gain new business.
Receive business education.
Improve business networking skills with positive business people.
Speak about business before an audience of positive, like-minded business people.
Develop business relationships and create a group of trusted advisors.
Network and communicate with more than 270,000+ members in 70+ countries.
BNI NW Florida - regions are actively building business referral and networking groups in Tallahassee, Panama City Beach, Seaside, 30A, Fort Walton Beach, Milton, Pensacola, and more. Click here for information about our forming chapters.
BNI Application. You apply for a new membership online. Click here to Find a chapter Click on the chapter you plan to join and then Click the "Apply Now" on the chapter details page.
More Information. The best way to find out about BNI is to visit a chapter. Please call 850-765-1543 , Click Here to send an email to receive information on joining a BNI NW Florida chapter.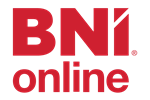 Now more then ever
THE WORLD'S LARGEST REFERRAL ORGANIZATION IS NOW ONLINE. BNI online is a great tool to help BNI Chapters continue to meet when an in-person Chapter meeting is not possible. Keep your business strong and let's us help and provide you with a strong professional network. Please check out and attend a BNI Chapter meeting online.
While bni online is a great short-term solution to maintain connectivity during unique situations, it is not designed to consistently replace Chapter meetings. Our 35 years of success in BNI is directly attributable to the in-person Chapter meeting and unique meeting agenda. This begins with a proven process that will allow a consistent, smooth experience for your Chapter to meet.