Alexandra (AJ) Beddouk
Congratulations to our first Spotlight Member for our region -- Alexandra (AJ) Beddouk.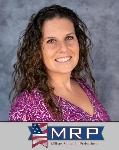 AJ is an enthusiastic and successful member of the BNI Success Partners of Fort Walton Beach chapter in Fort Walton Beach, FL. She has only been a member for three months and was asked to be a member of the chapters Leadership Team as Education Coordinator, which she accepted without hesitation.
Jeff Cepuran, Area Director, knew that AJ was going to a "force to be reckoned with" when during her first month she received 80 on the March Power of One Report and has just received 90 in the May report, just shy of getting 100. AJ finished the Member Success Program in three days after being given access to BNI U, and since her joining BNI she is averaging a little over five referrals a week for her fellow members. She exemplifies the meaning of "Givers Gain®"
The President of Success Partners of Fort Walton Beach chapter, Stacy Green, said "AJ is a rock star! Since day one, she hit the ground running and has not stopped. It has been inspiring to our entire chapter to see someone completely jump two feet into the BNI system and live it." AJ has transformed from a HALO jumping Army war veteran to a well-respected Real Estate Agent at eXp Realty located in Navarre, FL.
To congratulate AJ and learn more about AJ and her success in BNI Success Partners in Fort Walton Beach chapter, visit her BNI member profile, HERE.

BNI Champions Chapter, Tallahassee, FL
Congratulations to our June Spotlight Chapter -- BNI Champions Chapter of BNI.
Founded at the University Center Club, overlooking the iconic Bobby Bowden Field at Florida State University, the Champions has garnered $800,000 in "Thank You for Closed Business" since its launch in September 2017. "Champions inspires us to refer business, win profits, and cheer each other on," says Audra Fournier of Partners for a Solution, a chapter president in 2018-19.
During the COVID-19 outbreak, the Champions has had to pivot from in-person meetings held at the local American Cancer Society to the current BNI Online format. Current President (2019-20) Andy Fowler of Shield Tech Services ensured a flawless transition with thanks to his Information Technology (IT) expertise. He leads the weekly chapter meetings via Zoom with an "it's not about me, it's about we" mindset.
At the height of the global pandemic, three new chapter members representing AFLAC, Insure It All, and Hendrickson Insurance joined the Champions after experiencing virtually all that BNI and the Champions chapter has to offer.
"BNI Champions has absolutely made a difference for my business. The members put me in front of other businesses and organizations that make connections I would not have otherwise made. I have learned to be more intentional while networking, build strong connections and relationships, and expand my business client base and revenues," reports CPA Katelyn Wonsock of Carr, Riggs, and Ingram.
Each month, chapter members build their bottom lines through business referrals, one-to-one business meetings, and inviting business leaders to Champions meetings. Chapter attendance averages 95 to 100 percent each week.
"In 2020, monthly reports show the Champions have been the top performing chapter in the entire BNI Northwest Florida Region for six months running," notes Vice President Carol Bryant-Martin of the Florida Division of Historical Resources.
The BNI Power of One system delivers for members of the Champions:
Green Acres Landscape Owner Steven Green logged in 40 hours of CEU credits after complying with OSHA 10 and OSHA 30 requirements in a single week.
Current Agency Founder and CEO Chirag Shah recorded 14 one to one meetings in a single week while opening a new office in Savannah, GA.
Budget Printing Owner Crystal Vinson frequently ranks as a Network Leader with the most referrals and visitor invites.
In three years, the Champions chapter has grown from 0 to 25 active members. Nine of the founding chapter members are still going strong, Melinda Baker (University Center Club); Andy Fowler (Shield Tech Services); Audra Fournier (Partners for a Solution); Bill Fredericks (Frequency XP); Todd Harper (Luminosity Financial); Miriam Nicklaus (Armor Realty); Randy Nicklaus (211 Big Bend); Marty Roberts (Preferred Payroll); and Chirag Shah (Current Agency). Our chapter motto is "Together, through networking and referrals, BNI Champions get more business done." If you are interested in attending an online meeting on Wednesday's at 7:15 a.m., send an email to BNI Champions President Andy Fowler at [email protected].